You Have Automation Questions, Software Toolbox Has Answers
Ask Software Toolbox Experts Your Integration Questions
Software Toolbox is focused on the industrial automation industry and our founding team has combined over 50 years experience in industrial automation. As a member of the OPC Foundation since 1997, we help you use OPC as a key enabling technology for reducing total cost of ownership and enabling choice and flexibility in automation software.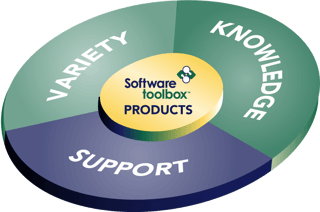 Hear what some of our users have experienced:
"Your OPC servers were so easy to use and setup – whenever I need OPC servers, I go to Software Toolbox as my first source" John Sawyers, GE Global Controls Services
"Your OPC Server's configuration import and export ran flawlessly and your fault tolerance and recovery time were a vast improvement over other OPC servers we have used – I will be recommending your product for all future installations" Scott Degler, Systems Performance Engineering
Do you have a project where you're having trouble accomplishing a particular integration task? Use the form to ask our experts!
Ask Our Experts Your Questions