OmniServer - The Proven Choice in Universal Data Acquisition
Free Protocol Evaluation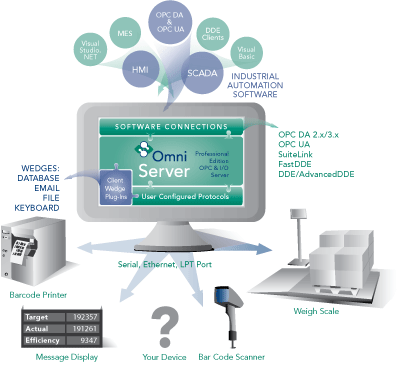 OmniServer is a fully configurable OPC server which interprets the data coming in from a device and delivers the data to any client program that supports the major information exchanges such as OPC DA, OPC UA, and more.
OmniServer takes care of all the polling and data parsing for you, and does this without the use of a programming language. All you need to know is how you want to present the data to the outside world.
If you have protocol formatting details for your device, talk to us by submitting the form to the right. Even if you don't and you know the make and model of your device, we're willing to try and find the protocol documents online.
We'll have one of our OmniServer technical experts get in touch with you to have a look at the details of your protocol, find out the specifics of what you need to do and make recommendations for how to proceed.
Do you have a project where your having trouble integrating a non-standard device? This FREE protocol evaluation will save you a lot of time and effort!

Get Your Complimentary Protocol Evaluation