IoT Solutions for MQTT, Azure, Amazon, Google, Rest, & Edge
Software Toolbox has been connecting devices, systems, and data at the edge before it was called the edge!
Cogent DataHub IoT Gateway
Stream data from OPC DA, UA, Databases +more to Azure, Google, Amazon, MQTT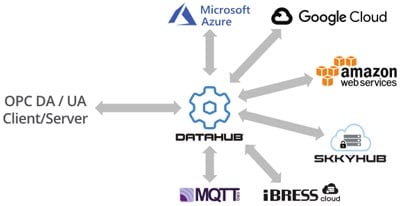 The Cogent DataHub is known for the large range of data sources it can collect from and deliver data to including many IoT cloud destinations
OPC UA, OPC DA
Spreadsheets,
Databases, and much more.
Templates for streaming that data securely to cloud systems
Secure MQTT Client and MQTT Broker solutions available
KEPServer-EX IoT Gateway
Deliver KEPServer-EX data to MQTT brokers and RESTful clients and servers
The KEPServer-EX IoT Gateway is an advanced plug-in for KEPServer-EX product line that adds capabilities to deliver data from anything KEPServer-EX can access data into IoT cloud systems.
MQTT client to push any data in KEPServer-EX to MQTT brokers
RESTful server for exposing data from KEPServer-EX
RESTful client for delivering data to RESTful web services.


SkkyHub Cloud Service
Securely streaming data without opening any inbound firewall ports
The Skkyhub Service is a natural extension of the Cogent DataHub product.
The Skkyhub Service provides a secure cloud relay or proxy for streaming your data that doesn't require any open inbound firewall ports on either side of the connection for:
Skkyhub Service is different because:
Fast data throughput
One-way or two-way communications, you control it
Access data, but don't expose your network
No VPNs required
Large dataset support with high speeds
Flexible pricing plans and free trials
OPC Router
Industry 4.0 Data Integration Solution with Visual Workflows, SAP, OPC, Database Integrations & More
A highly configurable software tool for integrating a variety of industrial, business, and IoT data sources using drag and drop visual workflows with the goal of reducing engineering time and risk in Industry 4.0, IIoT, and Digital Transformation applications.
OPC client connectivity to OPC UA, OPC DA, and OPC XML-DA servers
OPC UA Server including data access and methods triggers
Database connections to Microsoft SQL Server, MySQL, Oracle, MongoDB, InfluxDB and other ODBC databases
File access via SMB (Windows share) and FTP (SSL & plain)
Visual Workflows speed making connections to a wide variety of data sources
SAP certified connector for ERP integration


OmniServer
Connecting non-standard protocol serial & Ethernet devices to OPC UA and beyond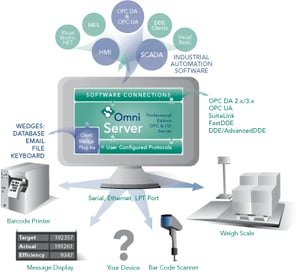 Connect to just about any serial or Ethernet device without custom programming. Serve the data up via OPC UA to any of the IOT Gateway solutions we offer.
Features:
Codeless protocol implementation environment
Proven solution with 20+ years field experience
Connect 1000's of device types.
TOP Server MQTT Client Driver
Connecting MQTT Data Sources to Wonderware along with all other TOP Server drivers
Driver connects to any MQTT broker
Supports TLS, password, and

user configurable Client ID security

Free video tutorial
Great complement to any other TOP Server driver suite you are using to deliver data to Wonderware applications.